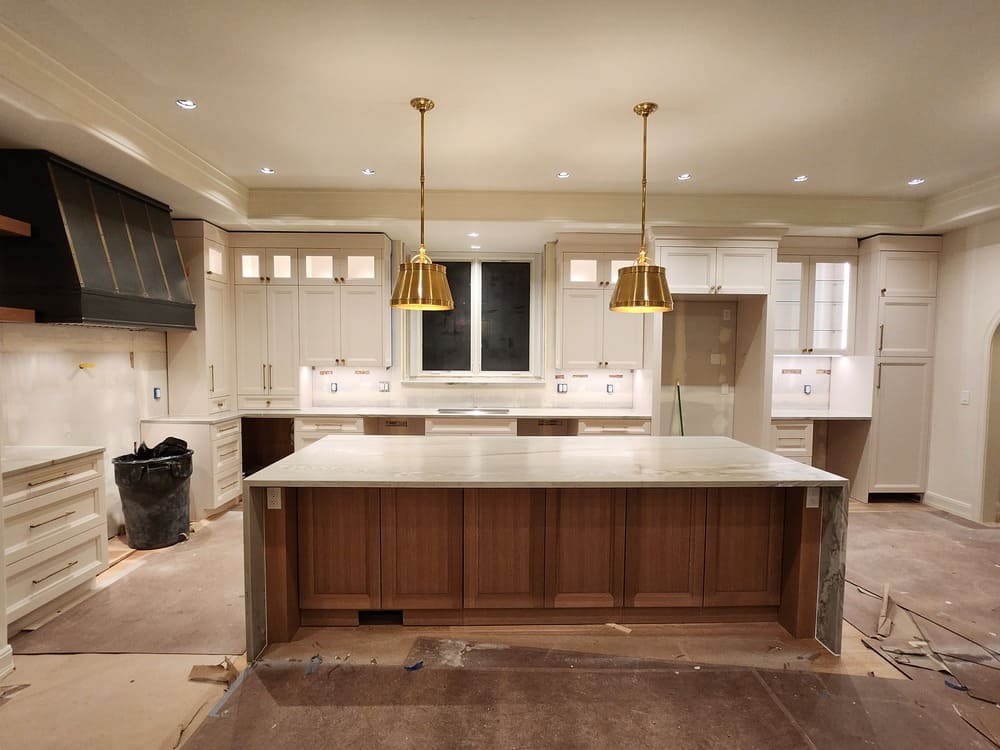 Stunning Kitchen Renovation with Luxurious Mont Blanc Quartzite: Before and After Pictures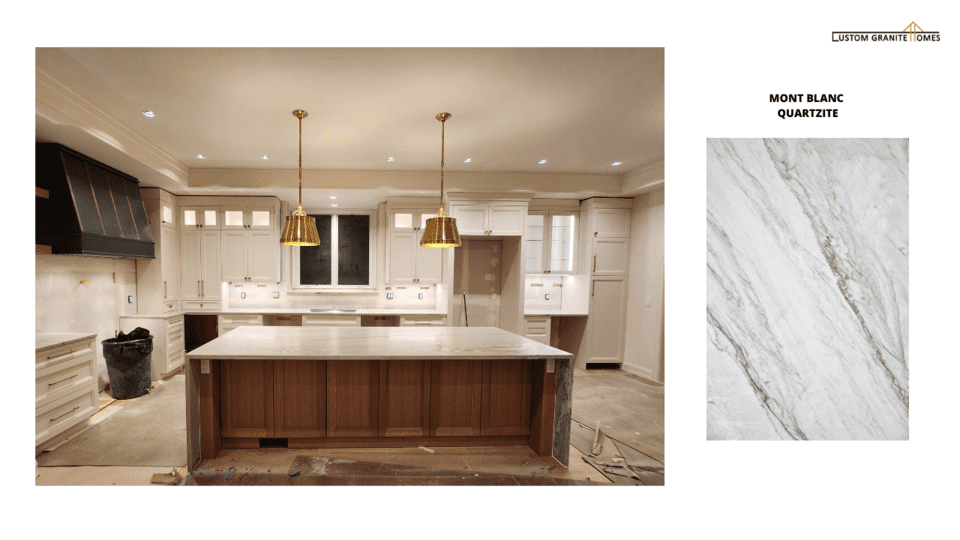 Welcome to our blog post about a stunning home renovation featuring 3CM Mont Blanc Satin/Leather Quartzite sourced from Arizona Tile. Located in the Cherry Creek district in Denver, this home's kitchen was transformed with the luxurious Mont Blanc Quartzite.
As you can see in the before and after pictures, the kitchen's centerpiece is a seamless island with two continuous matching waterfalls that serve as a gorgeous focal point. The Mont Blanc Quartzite's unique pattern and colors provide a luxurious touch to the kitchen's design that is sure to impress any guest.
In addition to the kitchen, the powder bathroom was also upgraded with this beautiful quartzite. The custom 3″ apron mitered edge and 8″ custom backsplash mitered into a shelf provide a clean and modern look.
All of the Mont Blanc Quartzite was fabricated and installed by our talented team at Custom Granite Homes. We take pride in our work and love seeing the happiness it brings to our clients.
A kitchen renovation can completely transform the look and feel of your home. The use of luxurious materials like Mont Blanc Quartzite can take your renovation to the next level. Here are some additional details about Mont Blanc Quartzite and how it can be incorporated into your kitchen renovation:
Mont Blanc Quartzite is a natural stone that is known for its striking beauty and durability.
It features a white or gray background with veins that range in color from gray to blue to green.
This stone is ideal for use as a countertop, backsplash, or accent piece in a kitchen renovation.
Its durability makes it resistant to scratches, heat, and stains, making it a practical choice for a busy kitchen.
Pairing Mont Blanc Quartzite with white or light gray cabinets and stainless steel appliances can create a sleek, modern look.
For a more traditional kitchen, consider pairing it with warm wood cabinets and brass hardware.
With Mont Blanc Quartzite, you can create a stunning kitchen renovation that is sure to impress.
Thank you for reading about this breathtaking renovation featuring 3CM Mont Blanc Satin/Leather Quartzite sourced from Arizona Tile. If you are interested in upgrading your home with this stunning material, don't hesitate to contact us for more information.