GRANITE INSTALLATIONS SPECIALISTS
Meet our most recent Project
Granite is one of the most popular options for kitchen and bathroom countertops throughout the country. Granite countertops are tough and durable, traits which make for a great option for a high-traffic area. These countertops can add richness and texture to your property.
Quartz is a relatively new material, but many people are interested in quartz countertops because it is a durable material that is not a natural stone. It is a man-made "stone" that creates a non-porous surface. 
Quartzite countertops, though they sound similar to quartz countertops, are different for a few key reasons. Quartzite occurs naturally and is not an engineered surface. Meaning, the composition of the slab is NOT created in factory with various materials comprised into one.
What are soapstone countertops? Soapstone is a completely natural surface that offers a lot of benefits you won't find in other countertop surfaces. Soapstone countertops are all natural, meaning there are no toxic chemicals or sealers of any kind being used. 
Marble is a very popular choice when it comes to countertops because of its very elegant appearance. It can add class to every room it is installed in. Marble sometimes gets a bad rap because people think it is high maintenance.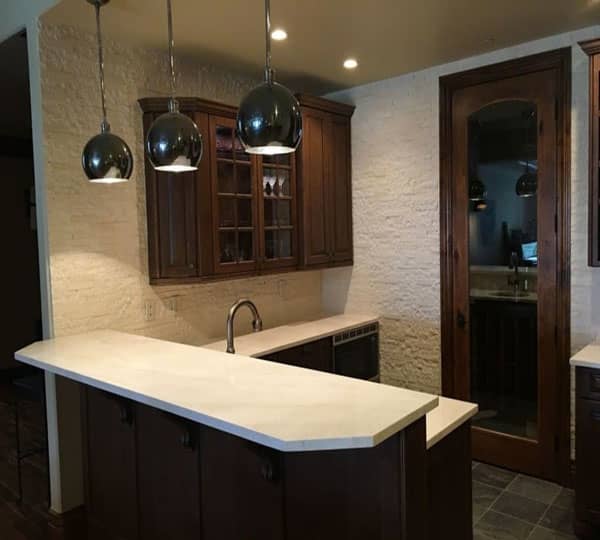 Travertine is a very ancient origins of rock used in construction. The travertine was used in Rome as early as the first millennium BCThe color of travertine is created by oxides, which has in its interior, common factor, being a relatively porous stone.
Home is where the heart is. We can help you find the right material that fits your budget and life style. Whether you are remodeling, replacing, repairing or a new countertop installation you've come to the right place. We are here to help you!
Jorge Leon and his team of professional fabricators and countertop installers have worked their hands at custom countertops in Denver, for many years. From start to finish, Custom Granite Homes has a hand in the every step of the process. We offer free estimates on projects, fabricate your desired products in- house, and ultimately install that product with our own bare hands and technical expertise. Clients that want granite, tile floors, or tile walls in Denver cannot go wrong when they hire the experts countertops installers in Denver, CO from Custom Granite Homes.
Your Best Choice for Custom Installed Slab Granite, Quartz and/or Porcelain Kitchen Countertops, Bathrooms, Walls and Floors in Denver.
Custom Granite Homes is a premier custom countertop installer in Denver, Colorado of natural stone, engineered quartz kitchen counters, and "green"  slab materials used for kitchen countertops, tub decks, shower surrounds, fireplaces, staircases, flooring and other quartz surfaces.
We are the "brand behind the brand" of many leading regional and national builders, contractors, and home improvement retailers, completing thousands of jobs each year for them, and also working directly with individual homeowners who select us because our:
Showrooms
Showrooms are conveniently located in the Denver area.
Full Service
Integrated, full service approach provides you with one point of contact throughout your project and saves you the time others spend visiting multiple slab yards to find the "right" material and then contracting and coordinating separately with a fabricator.
Competitive Pricing
Competitive pricing is enabled by our huge inventory of over 10,000 natural stone slabs. If we stock it, you won't pay for the entire slab unless your project requires it. Call us for your Quartz Countertop Remodel.
High Quality
Consistently high quality is delivered by our teams of craftsman working with CNC machines, waterjets and other advanced equipment at our three fabrication facilities. Our full time countertop fabriation and quartz installation can help you year round.
Fast Installation
Fast & dependable installation typically completed about a week after templates are created and enabled by our large, local production capacity and dedicated craftsmen. Our installers are dedicated crews that created your kitchen countertops from shop fabricated pieces to fine kitchen countertops that you will enjoy for years to come.
Experience
15-year track record of delivering unmatched value and service to discerning customers, including renowned business leaders and Hall of Fame athletes. See our section for previously installed projects to see the Caesarstone, Silestone, Granite and Marble installations we have made over the years.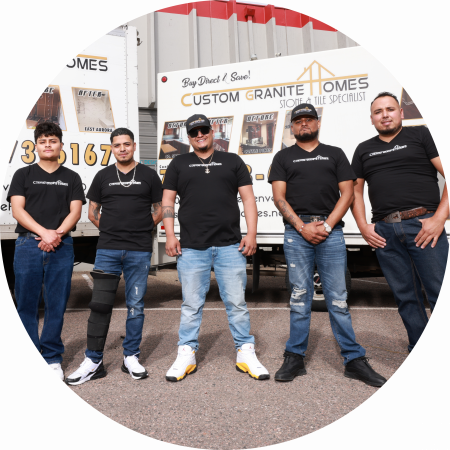 THE GRANITE ADVANTAGE
Custom Granite Homes in Denver, CO believes that you don't have to spend a fortune to get high quality products in your home. The value of granite countertops in your kitchen, bathroom, flors or in all your home can't be denied—it's resistant to heat, stains, and scratches. It's permanently sealed, maintenance free, and of course, it looks great in any setting! You won't find more affordable price for a Granite Countertops in Denver, Colorado as we keep our overhead low and get the best prices on granite products, marble, quartz and another stone products from our distributors like granite remnants.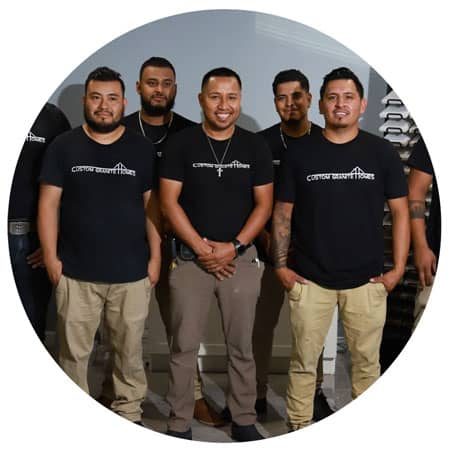 Custom Granite Homes offers the highest quality, most affordable granite products in Colorado. Hiring our team to fabricate and install custom granite products is one of the best decisions you can make when you're building or renovating your home—the quality of our products speak for themselves! Do you want to know the granite countertops price? Contact Us! For the more time sensitive projects, ask us about our signature "fast install" service. The elegance and practicality of granite doesn't have to break the bank! Contact Custom Granite Homes today about installing high-end granite products in your home today.
The Best Countertops in Denver, CO
NO NEED TO TO LEAVE YOUR JOB OR HOME
📞 CALL DIRECTLY HERE  👇
Email us a drawing with your countertop measurements to
colorado@cghtops.com
and we will email back a quote
Jorge, I just wanted to take a minute to thank you for all the work you did on my granite countertops and back splash. Working with you was a true pleasure! You went with me to every appointment so that if I had any questions they were always answered right there. I never felt rushed or that I needed to make a decision that I wasn't 100% happy with. You were very patient and I can't tell you how much that was appreciated. You never tried to steer me to the more expensive granite….you always said that it should be the one I loved. The same was true for the back splash. And even after the granite and back splash were chosen, you came out each day to make sure that I was happy with the installation. I love my countertops and back splash and I will make sure to recommend you and your company to anyone who needs work done in their house. Please feel free to use me as a reference. Thanks again!
Leon & Aidee; I'd like to take this opportunity to thank you for the work done on our recent project on Syracuse Ct. As a remodeling contractor we work with a lot of subcontractors on different projects and trades. It is truly refreshing to have the chance to work with a firm who shows the level of professionalism exerted by Custom Granite Homes. All aspects of the project were handled as promised from the bidding process through the completed kitchen. I appreciate your company accommodating our time frames for the job even after we had to reschedule several times. You met our timelines and the work completed was just as expected. I can honestly say we now share a completely satisfied and happy customer. We look forward to working with you on our future projects.
Our experience with Custom Granite Homes was excellent. We used them for the first time while remodeling three bathrooms recently. They installed granite counter tops, under-mounted sinks and backsplash. Their prices were competitive and materials are great. They were easy to work with, punctual, professional, and the installation was top notch. Planning to work with them again.
Custom Granite Homes did a fabulous job with my kitchen granite. They were on time, clean and very professional. The job was finished and installed ahead of schedule. They far exceeded our expectations.
I have used Custom Granite Homes on 2 large jobs. On both jobs Jose L*** proved to me that customer service is still out there.Prices are competitive. Install and workmanship are far above excellent. So many companies out there that sale and install Granite but very few have customer service skills like Custom Granite Home. For that reason I will continue to use Custom Granite Homes in my jobs.
We used Custom Granite homes for our granite in our kitchen. They were absolutely amazing! Their customer service and workmanship is great! Everyone that we dealt with was great. Product fabrication and installation went great!
Positive experience with this business. Communication was timely and they did great work. I had granite countertops installed in my guest bath and kitchen. The kitchen consisted of 4 separate areas (sink area, L shaped area, desk area, island with cooktop). The crew worked efficiently and cleaned up the area after completion. I would recommend them.
I had this company do my kitchen with Granite. Leon came out, measured gave me the scoop on my quote. I was 110% satisfied and had his company do my remodel. His crew who came out were extremely pleasant, professional , enjoyable to have in my house. They did an outstanding job, they did a complete clean up after the work was done. I would recommend this company to anyone who wants new Granite. As for his prices, very very much cheaper then the companies along I-70 in Denver around the Monaco area. What would have cost me 3900.00 I paid little under half that, and got the same results. So don't be fooled by the TV ads about how great their prices are. You need to call this company and have a meeting with Leon and let him do your work for you. His company does an excellent job and you will also like his prices and workmanship
I used Custom Granite Homes for my kitchen counter. They were easy to work with and I had my counter installed within days of the completion of my kitchen. The workers were professional and cleaned up everything prior to leaving. It was the easiest part of the kitchen renovation and would highly recommend them.
We had several things we wanted done by Custom Granite Homes. We needed new countertops in 2 bathrooms, tile in one of the bathrooms, and a new toilet installed. Picking out the countertop was so fun because they have a huge selection to choose from! Within 3 days after making our choice, Janet called to schedule an installation time and that was only 3 days after. Our team arrived promptly and there was a huge flurry of activity as carpet was pulled up, toilet removed, countertops pulled and away we go. Installation took 1-1/2 days to complete. The boys didn't even stop for lunch although we were ready to buy it. Donuts were a hit the next morning and again they arrived on time and jumped in on the work. Everything went so smoothly. They cleaned up everything and took away the old carpet and toilet. We were so impressed with the work ethic and professionalism of this company and the men who work for it ( and Janet!). This is rambling, but they are terrific!!
Custom Home Granite gave us excellent service in their clean shop and showroom in picking out the quartz we wanted and laying out our counter top to look exactly like we wanted. The installation went flawless, Custom Home Granite was the only trades doing my remodel I didn't have to make sure they were doing things correctly. Thank you everyone at Custom Home Granite.
" Custom Granite Homes LLC did the Granite counter tops in my kitchen and installed tile in my laundry and bath room. The owner and his workers were very polite, and he installed both in less than a weeks notice. I would recommend this company to others, since my kitchen was not an easy one. The cabinets were not completely level and the walls were not completely even either since its an older house. They took the time to level everything out before installing the granite, and the finished result was gorgeous. The Tile was installed and grouted, and was also beautiful when they finished. I was able to select the granite I wanted, and the price was the most reasonable after comparing to at least 4 other companies. I will definitely recommend them to my friends and family. Thank you Leon, Janet, and all of the workers who worked on my house."